Good Steps® - The Best Dog Steps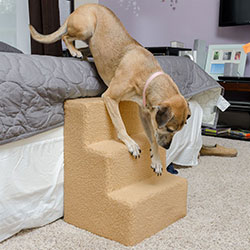 The Problem
Finding
dog steps that are safe
for your dog, healthy for your dog, look good in your home, and that your dog likes and uses. No problem, right?
Have you ever watched a puppy try to navigate stairs? Or an
older dog
, perhaps one with hip issues, struggle to climb a couple of steps? We all have...and that struggling dog may be curled up at your feet right now.
Why Aren't Dog Steps Designed for Dogs?
Everyday stairs for humans are not built to some perfect angle suitable to all living creatures, but for average human strides so as to provide easy and comfortable ascent and descent. Unfortunately, when it comes to dog stairs for
small dogs
, senior dogs, dogs with
long backs
, or simply pet steps to help your pooch get onto the couch or bed, the typical pet stairs, or "pet steps," have always been designed from a human approach, offering a one-size-fits-all approach to handle all the different types of dogs. That's bad news for most dogs.
Dogs comes in literally dozens of different sizes, shapes, physical abilities, differing agility levels, health conditions and other needs. From puppies and Pekinese to seniors and Spaniels, dogs face challenges every day trying to do simple things you and I take for granted. Want to be on the couch or bed? The choices are: 1.
Dog ramps
– not great for paws and joints; or, 2.
Standard dog steps
– which are often unstable, in addition to not being customized to a dog's specific physical needs.

What if there was an answer? ...You guessed it. Now there is.
The Solution
The new, totally unique, Good Steps adjustable dog steps are designed to assist your dog from puppy to senior, while adjusting to fit your dog's unique needs. And, they look really good!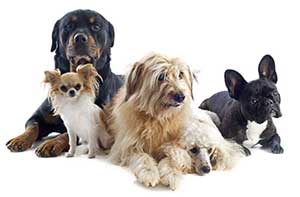 Who are Good Steps Dog Steps for?
As we met with dog owners while looking for answers to the question of which dogs could benefit from our amazing new patent pending dog stairs, we discovered a world of lovable dogs just thrilled about the product…
Short legs
Long backs
Injuries
Senior dogs
Heavy dogs
Looooong legs
Hip issues
Nerve damage
ReHab
Weakness
... and probably a bunch more we haven't heard about yet. (tell us, please!)
US & International Patents Pending |

Proudly made in the U.S.A.